Mindset 5:
resist illness
This mindset focuses on:
Building a strong hygiene barrier for your body and your environment
Knowing WHEN and HOW to strengthen your immune system when needed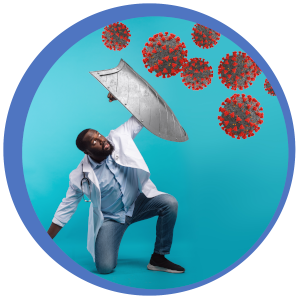 avoid risky behaviors
Don't eat food or drink water from questionable sources
Be careful not to overwork yourself
Protect yourself from mosquitoes, people with infectious illnesses, and animals like rats, mice, and ferrel cats and dogs
tips for building a strong hygiene barrier
A strong hygiene barrier isn't just clean hands, it also involves all our skin, lungs, mouth, gut, and our environment.
Clean produce well with vinegar and baking soda
Clean, disinfect, or wipe down what you bring into your home
Wash hands frequently for 20 seconds with soap and clean water
Drink, cook, and brush teeth with clean, filtered water
tips for strengthening your immune system
Understand what toxins are and decide on which ones you need to get rid of first
Toxins LOVE fat: clean up high-fat foods if possible
Begin with reducing your biggest daily or weekly exposures first
Read ingredient labels!
Make healthier choices by buying less toxic alternatives
Just work on a few things at a time!